A Social media toolkit that guarantees to increase
engagement and fans without the high costs
Are you posting at the
right time?
Optimise
The Optimise Tool ensures you know the optimal days and hours to post to your fans for maximum engagement. Looking to post to specific genders, age groups or people who have previously engaged with specific posts or hashtags?
No problem, it takes no more than a minute and even schedules your post for you.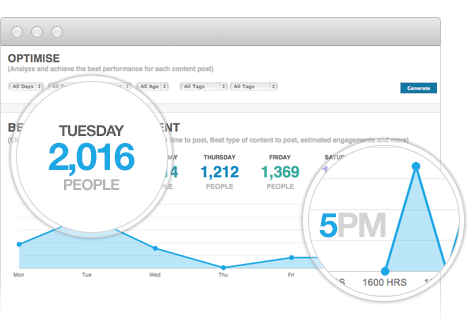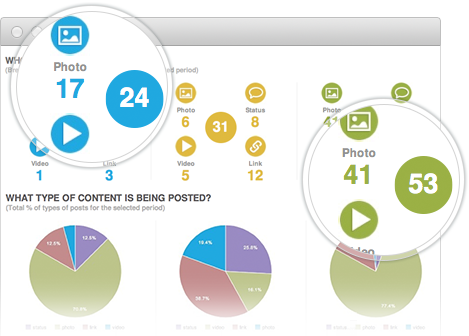 Improve performance by
tracking your competitors!
Benchmark
Benchmarking our performance against competitors can be both very satisfying (when we are are winning) and very insightful. Locowise lets you select the profiles you would like to benchmark against and then gain a thorough insight into their performance, content strategy and fan base make-up.
Find out
what your fans prefer!
Engagement
When do they like to engage with us? Who are they? Where are they from? Locowise provides you the information to understand not only who your fans are but when and with what they like to engage with you on. It show you how different post types performs and gives insight into how to increase the all important organic reach based on what is going on with your page.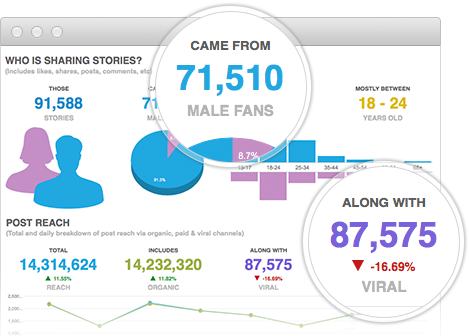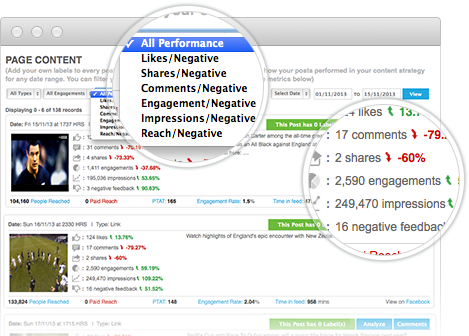 Analyse your post
performance
Content
Bring your social media insights to life and quickly understand how improvements can be made. Locowise lets you drill through to the underlying content helping you instantly understand what has generated the peak day, low engagement, strong reach or any other variable you can think of. Analysing your content to see which posts perform well and why they did is a critical part of social media success. Locowise's tools provide you plenty of options from simple queries on which posts had the most likes or shares to understanding which posts had the most engagement organically for a particular campaign.
Locowise
Social media toolkit is trusted by
Discover
how customers use Locowise
---
Social media and PR companies
use Locowise to manage communities, track campaign performance and client reporting.
Advertising Agencies
use Locowise to review content performance and acquire fan base preferences on content.
Small businesses
are using Locowise to give instant feedback on post performance to enable them to build and grow strong, engaged fan bases.
Car manufacturers
use Locowise to understand their community and build engagement and drive brand messaging.
Entertainment companies
use Locowise to maximize engagement around their posts that drive traffic to their commercial channels.
FMCG
use Locowise to manage social branding, measure campaigns and build communities.
Education institutions
use Locowise to optimise potential and student engagement around campus news.
Hotel groups
uses Locowise to target posts to sections of their fan base that have previously engaged with property posts from specific locations.
Professional sports teams
are using Locowise to target specific fan demographics within their communities.
Increase your fans with a 30 day risk free trial
Complete access to the tools to manage your Facebook, Twitter & Instagram profiles!
Select a package and START YOUR TRIAL
Setup your account. Get access to all features.
NOTHING will be billed to your card for 30 days. Guaranteed.
If you want to continue after 30 days, only then will we bill you for your yearly plan.
During your free trial you can cancel at any time. No questions asked. Nothing billed at all.
Please read the terms and conditions before you continue.
£(GBP) € (EUR) $ (USD)
Choose package
Facebook • Twitter • Instagram
Extensive Realtime Analytics
Analyse Competitor Profiles
Full Post Scheduling
Campaign Measurement
Fan/Follower Analysis
Post Optimiser
Unlimited Custom Reporting
Brand the tool with your logo
Phone & Email Support
Looking for a custom package?
Send us a mail at
support@locowise.com
if you require more than 20 profiles or if you would like to add a profile with more than 300,000 fans or followers!
Your 30 day Trial
What do you get?
Your trial account gives you complete access to the Locowise Tools without any restrictions. After the end of the trial period, you will be billed monthly using the payment card details you have provided unless you cancel your account before that.
For any questions, reach out to support@locowise.com.
Payment Options
Pay via Card or Paypal
Payment process is secure and easy to use. You can choose to pay via your Visa or Mastercard Credit card or use your Paypal account. If you would prefer a bank transfer or an alternate mode of payment, please reach us at support@locowise.com.
Frequently asked questions
Contact us at
support@locowise.com
if you have any other questions or need further information about any of our plans.
Why do you need my credit card for a free trial?
We ask for your credit card to allow your membership to continue after your free trial, should you choose not to cancel. This also allows us to reduce fraud and prevent multiple free trials for one person. This helps us deliver better service for all the honest customers.
Remember that we won't bill you anything during your free trial and that you can cancel at any moment before your trial ends.
Can I change my plan later on?
Yes, you can upgrade or downgrade plans at any time. The change will take effect immediately, and you will be credited an amount equal to the current month's remaining charge.
What if I decide to cancel?
If you no longer wish to use Locowise, you can cancel at any time. At that point, your membership will last until the end of the current monthly billing cycle.
What other payments are available?
We do have other payment options for our larger plans. Please feel free to contact us at support@locowise.com for further details
Are there discounts for yearly plans?
Yes. We offer 10% off the one year plan, and 25% off the two year plan - that's effectively 6 months for free!