This is your Instagram marketing round-up. For this review we looked at 2,500 Instagram profiles and their organic growth and engagement results in the month of May.
Not only do you see all the actual data that can help you run your profile more effectively, but we also bring you all the interesting news and happenings you may have missed that could change your approach to the platform in the future.
This includes the opening up of Instagram ads powered by Facebook, the revamped explore tab and a more powerful search which provide brands an opportunity to reach a new audience with a reactive content strategy.
Let's get to it.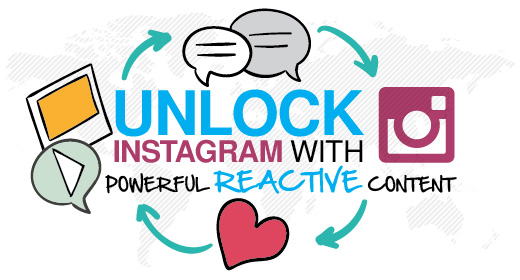 1.48%
average
follower growth
The average follower growth on Instagram in the month of May was at 1.48%. For the largest profiles with over 1 million followers, the growth was at 1.87%.
This is a 24% decline compared to the 1.95% growth we saw in the month of April, but still better than the poor 0.2% organic growth we see on Facebook.
2.41 posts per day
on average
Profiles we looked at published 2.41 posts per day on average. This is a 5% increase compared to 2.3 photos published per day in April.
The largest profiles are the most active posting just over 6 posts per day.
Photos continue dominating videos with 91.77% of all posts being in the photo format. For the largest profiles photos stood for 98.12% of all content published.
#nofilter still rules with the most popular filter being "normal".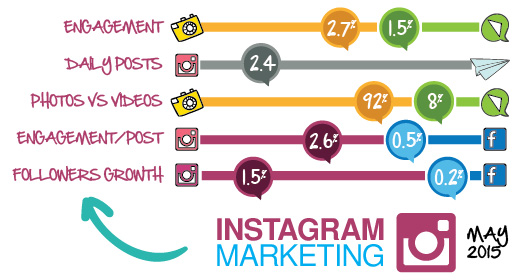 Facebook-style ads
are coming
to help brands increase audience and reach
According to this study 32% of teens in the USA see Instagram as their most important social platform. For Twitter this number is at 24% while Facebook is 14%.
200 million of the 300 million monthly active users log on at least once a day. The average user spends 21 minutes a day (pay wall) on Instagram uploading images and flicking through other images. This younger and more mobile audience is very appealing to many brands.
To take advantage of that Facebook is opening up Instagram ads to everyone. They plan to introduce the very advanced advertising targeting and filtering we are familiar with from Facebook "over the coming months". A "click-to-buy" button is in the works too.
This is great news and an awesome opportunity for brands. As seen in our latest Facebook study 43% of Facebook pages use ads to boost their activities. Despite the organic opportunities being better on Instagram than on Facebook, it is not unimaginable that we will soon see a similar number of profiles using ads on Instagram too. Access to the advertising platform takes the marketing efforts of brands onto another level.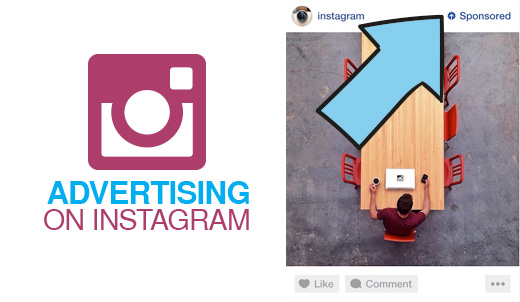 It will also be interesting to see how users embrace seeing more ads in the highly personal space that the Instagram feed is. Snapchat for instance is now the main platform for 13% of US teens. Could there be a backlash when Instagram ads are introduced with even more teens moving to apps such as Snapchat? We will find out soon.
2.61% of the following engages
with a post on average
Let's take a look the engagement numbers.
The average engagement per post on Instagram in the month of May was at 2.61% of the total audience. This is a 7% decrease compared to the 2.8% engagement we saw in April. For profiles with over 1 million followers the engagement was at 2.84% of the audience per post.
This makes Instagram a significantly more engaging platform than Facebook. On Facebook you can expect to engage only 0.55% of your total page likes per published post.
Photos are more engaging than videos. Photos engaged 2.69% of the total audience while videos engaged 1.47%.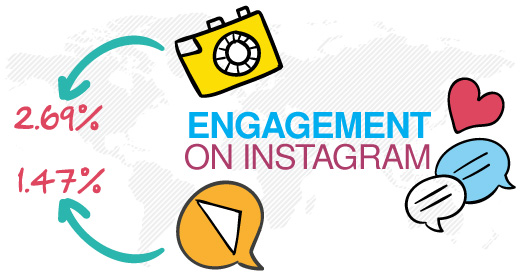 A heart is worth
a thousand words
People don't like to comment much on Instagram. 97.2% of all engagements were hearts. The average numbers of hearts and comments per post was at 4,820. Of these 4,688 were hearts and 132 were comments.
The average amount of time taken by a follower to comment on a post was 2 minutes and 39 seconds.
Videos are slightly more comment-worthy than photos. Only 8.23% of all posts were videos but they received 11.60% of all comments. So if you're looking to squeeze out more words from your followers try to post some engaging and attractive videos.
Revamped explore tab
and a more powerful search
We discussed Instagram trying to get better at surfacing the most popular content in our study last month. Since then Instagram has announced changes to their "Explore" section and their search engine.
The app is now better at highlighting news, events and information as things are happening. "It's a real-time visual pulse for what is happening in the world", said co-founder and CEO Kevin Systrom. Facebook might not have succeeded with their own trending features, so it looks like it's time for Instagram to try and beat Twitter at what it does best. It will be interesting to see how this plays out.
The 'explore' section now highlights trending places (popular events in general but also those near your location), trending hashtags, a curated collection of photos on a variety of themes, and a search engine that allows you to discover photos from any location.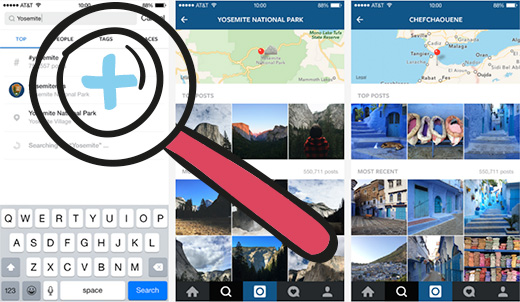 reactive content marketing strategy on Instagram?
In light of the changes Instagram announced it is worth considering if a larger part of your content marketing strategy should be reactive and based on real-time events, trends and other relevant happenings. If done well, this could expose your brand message to a new audience thanks to the new explore tab and the new search.
Not many brands put much emphasis on reactive marketing due to as majority of time and resources being spent on proactively planning future content and campaigns. Listening and responding to customer feedback is a part of a reactive strategy and our recent study has shown that majority of brands ignore customer support in social media.
Still, there are many current opportunities. Especially in the always-on, fear of missing out, real-time mobile environment that Instagram operates in. Monitoring the explore section on Instagram and reacting to anything that is relevant to your brand with interesting and eye catching content should become an additional task for the social media team.
Increasing your
posting frequency
In light of the changes Instagram announced it is worth considering if a larger part of your content marketing strategy should be reactive and based on real-time events, trends and other relevant happenings. If done well, this could expose your brand message to a new audience thanks to the new explore tab and the new search.
Are you worried about being too active? As seen in this study the largest brands with the largest Instagram followings also post much more frequently than average profiles do, so there shouldn't be much to be worried about in terms of getting negative feedback because of an increased posting frequency.
The quality is key though. Focus on posting relevant and immersive content that resonates with your audience. Add descriptive and intriguing copy to your posts, tag it with the relevant popular hashtags and get your audience to interact with it. The algorithm that resurfaces photos towards the top is secret but relevancy, timing and engagement surely play part in it.
Could your brand post the Oreo's Super Bowl tweet of Instagram?
What can brands
take away
from this?
Instagram rules organic growth and engagement.
It is also the preferred social platform for the majority of teens. If this is an audience your brand is targeting you need to make Instagram the main platform for your social media activities.
Instagram ads are opening up to everyone soon.
Get your budgets approved and ready for this. Start using Facebook ads if you're not already and learn from there. Instagram ads are likely to have targeting and filtering options similar to Facebook.
Start posting more reactive content.
Keep your finger on the pulse and be on the lookout for opportunities. When you see one, you need to act quickly. One way to help yourself is to have image templates ready that you can quickly edit at short notice. Just remember to always make sure you stay true to your branding.
If you'd like to play around with the data and compare your own Instagram profile to the profiles we looked at in this study, do check out our Instagram Analyser. It's free and updated daily with all the latest numbers.
All Your Social Media Analytics
And
Reporting In One Place.