Welcome to our November study for organic growth and engagement in social media.
We've been doing these studies throughout the year. We've been highlighting the trends, action points and takeaways gained from the data.
As we're nearing the end of the year 2015, we'll also take a look at key trends to brace yourself for in 2016. Things you should know to thrive in social media next year.
Let's get started with the insights from our November study first.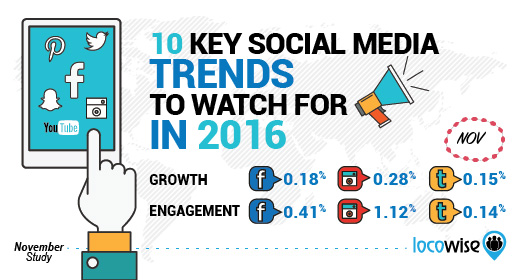 Instagram has higher growth and engagement than Facebook and Twitter
50 million businesses run pages on Facebook, but Instagram is stronger for organic growth.
The November follower growth for profiles on Instagram was 0.28%. Facebook organic page likes growth was at 0.18% and Twitter follower growth at 0.15%.
Organic post reach on Facebook hits a low point
The average post reach on Facebook in November was 7.15% of all page likes. This is a 1.4% decline compared to October. It is the lowest post reach since we started doing these studies seven months ago.
What about the post format? Videos reach most people on average: 8.94% of all page likes. Link posts are second best with a reach of 8.36%. Photos reach 6.7% and status updates reach 5.23% of the audience.
How are brands combatting this organic decline in growth and reach? Many use ads. 42.01% of pages used Facebook advertising in November purchasing 28.98% of their total reach.
Want to learn more about how your page compares to the 5,000 Facebook pages we've looked at in this study? Try out our free Facebook Page Analyser.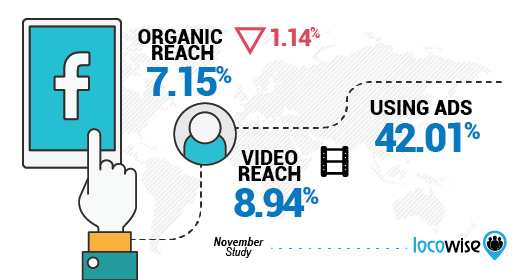 Facebook's cold November rain
Engagement rate on a Facebook post in November was at 5.77% of people reached. Considering that an average post only reaches 7.15% of the total page audience, we can conclude that only 0.41% of your page likes engage with a post on average. This is the lowest engagement rate since we started doing these studies.
Videos don't only get the highest reach but they're also engaging 6.11% of the people reached. Photos engage 6.05% of the people reached. Status updates engage 4.04% and links engage 3.82%.
So what's the conclusion for Facebook in November? All metrics we looked at saw the lowest levels since we started doing our studies. Audience growth, content reach and engagement rate. Sad but true.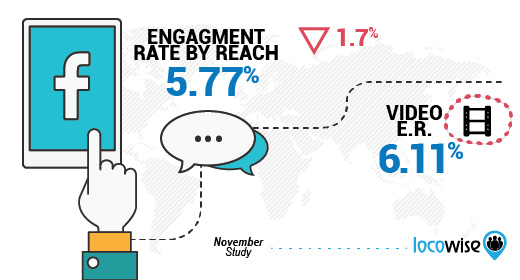 Instagram engagement on the decline too
Instagram engagement rate in November was at 1.12% of the total audience. This is an 18% decrease compared to the engagement rate in October. This is the second month in a row with a double-digit engagement decrease. Instagram engagement has declined by 60% since April.
There are still some positives despite all the bad news. Instagram engagement is still stronger than the 0.41% of the total audience that engages with a Facebook post. It also beats the 0.14% follower engagement rate on Twitter.
How does your Instagram profile compare to the 2,500 Instagram profiles we used in this study? Measure yourself using our free Instagram Analyser.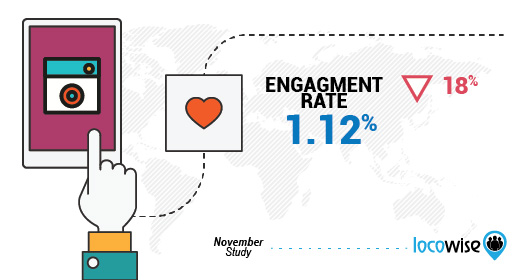 10 key social media trends to watch in the year 2016
01.
Remember the timeless principles
People that work in social media feel that things change quickly. Nothing lasts forever. Hardly a day goes by without a big announcement, a new feature or a change from one of the main platforms.
Still, things are actually not moving as fast as we think. There are some evergreen and timeless principles that we should follow to stay on top of the game in the new year. Do take a look at our 11 Timeless Pieces Of Social Media Marketing Advice.
Timeless principles are not everything though. Keep reading.
02.
The decline of all-things-organic to continue
Our November numbers show a continuous decline of all-things-organic on all the main platforms. Facebook is down on all the metrics while Instagram engagement continues its downfall. Will this trend continue in the new year?
We don't see the end of this trend soon despite Mark Zuckerberg going on paternity leave. The decline in organic growth and reach will continue in the year 2016. Best advice is not to expect too much from organic sources in social media.
03.
Social embraces advertising
The above leads us to advertising. Advertising is the only sure thing you can do to grow an audience in social media. It also helps get your content out to more people. Over 40% of pages already use ads. We expect even more brands to board the advertising train during the year 2016. Brands that don't do advertising will be left behind. Do you have your 2016 advertising budget secured?
04.
Increasing importance of getting others to share your content
How can you lessen the effect of the decline of organic reach? Publish strong content that gets other people to share it and do the marketing work for you. This is something social media marketers will spend a lot of time thinking about in following months. How can you get more of your fans (or even your employees) to share your content for you?
05.
Twitter and Instagram algorithms
Both Twitter and Instagram will take steps towards a Facebook-like approach to news feeds. They both show the content in reverse-chronological format now. There are no algorithms in place.
Both platforms will be introducing algorithms soon. Twitter is testing one already. All this in hope of surfacing the best content making their platforms more engaging and sticky.
Algorithms may have a big impact on the reach of your content. On Facebook the algorithm had a negative impact on reach. Time will tell how algorithms will affect other platforms.
YouTube is still going strong. Snapchat is all-in on video. Live streaming platforms such as Periscope are growing. Facebook is introducing several new video features in upcoming months. Live streaming, 360-degree videos and virtual reality.
Facebook is working hard on making their platform attractive to video makers. Facebook will protect the copyright owners from getting their videos re-uploaded by third parties. They will start offering revenue share deals.
All this should result in a greater number of brands becoming more active video creators. How can you introduce video to your content strategy?
07.
Instant articles and the decline of traffic to websites
Social media platforms prefer their users to stay on their sites and spend as much of their time there. Facebook and Snapchat are leading the way with this and the trend will continue. Features such as "Instant articles" will lower the number of clicks on external links.
More people than ever before may get exposed to your content thanks to social media. Only a few of them will actually consume your content on your website. Most of them will see it directly on a social media platform.
What does this mean to your content strategy? How will this impact the way you measure return on investment from social media activities? Questions are many. We will get some answers during the next year.
08.
E-commerce in social media
The above will also mean that you need to start selling your products and offer your services directly in social media.
Almost a third of all online shopping transactions happen on mobile phones. Social media platforms want to be a part of that. They are not satisfied by being the place that will just send the traffic to external e-commerce websites. They want to host the stores and allow you to buy directly on their platforms.
Pinterest, Twitter and Instagram are working on being the first to break this market. Facebook is introducing online shops to pages. They are already testing sales of concert tickets.
This is something that could really change the way you run your business online.
09.
Messengers are eating the traditional social media world
We already spoke about the power of messengers last month. Facebook Messenger, WhatsApp, WeChat, Line, Snapchat and other messengers are the future (and now). They are the apps where most people spend majority of their time when on mobile.
These apps will become key platforms on which you can reach and connect with your fans and customers. They will become key distributors of your content too.
Brands will spend more time on messengers than on their social media profiles soon. What will these brands be doing in messengers? They'll be sharing content, interacting and doing customer support.
10.
Death of the autopilot
Many marketers have chosen a lazy approach to social media. It is all about scheduling huge quantities of posts. Importing an Excel file with one month's worth of posts at once. Republishing content. Ignoring people who interact with you. These are not the best ways to approach social media.
Quality will win over quantity. Marketers will realise that posting fewer but greater posts is the way to go. Interacting with the audience will bring better results than posting many mediocre posts. "A more human approach to social media marketing" if you will.
All in all, these are very exciting times for social media marketers. We wish you all the best luck in the year 2016!
All Your Social Media Analytics
And
Reporting In One Place.